A classic red wine well done in the heart of the Priorat, great value for money and a guarantee of lots of fun in the glass.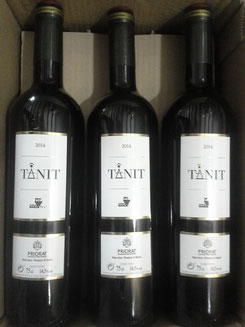 Tanit is our first wine from several wineries of the DOC Priorato aged in oak barrels for 12 months.

The reflection of taking Tanit to the market, is due to want to contribute a great wine and also be a source of financing. With a clear objective, recover some of those slate slopes together with the varieties of native grapes. With this and effort to reach its excellence in the present vintages.
The vines are deeply rooted in the sterile Llicorella floors, which give the wine its mineral characteristics. Tanit is presented in a tight purple color with purple nuances and a fruity and mineral, aromas to present acidity and finely polished tannins. In the mouth it is dense and strong, the roasted flavors thus integrated and mineral notes in the palate clearly noticeable, and all this with an alcoholic graduation of 15% in volume. The wine tastes harmonious, balanced and still evolving in glass. It will peak in 2-3 years and can still be safe to drink until the 2030s.
 -       Grapes: Garnatxa negra, Samsó, Cabernet Sauvignon,  Merlot, Syrah.
 -          Wine harvest 2014
 -          12 months aging in 300 l. Of different ages (1-2 years)
 -     15% vol
 -     Available 7000 bottles, for the vintage 2014
 -     Cartons of 6 bottles of 75 cl.