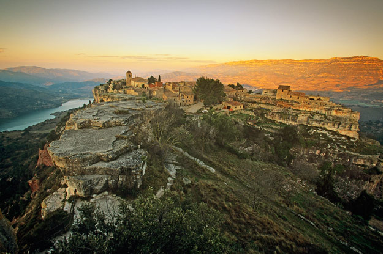 The new Priorat County Tourist Information Map, "Paisatges del Vi" (Wine Country) invites visitors to get to know our heritage and emblematic areas of the region by car.It offers a taste of the Priorat with 20 points of interest which include historical monuments such as the Monastery of Scala Dei or the Battle of the Ebro Military Observatory in La Figuera. The map also includes the routes of the two "Paisatges del Vi Oli " or "Wine and Olive Oil Country" guides which run through the county.
The map has a section with a brief description of each point of interest with contact details etc.. and a photograph. There is also a section dedicated to the different  stop off points in the Paisatges del Vi (Wine Country) routes which can also be followed by listening to a CD or MP4, which will soon be available at the tourist office. Another new feature is the distinction between the roads and the roads which traverse vineyards.
The map is currently available in Catalan and will soon be available in Spanish, English and French.
...At your own pace... enjoying the views from behind the wheel, every bend offers us a new perspective, a new corner to submerge ourselves in surrounded by vines.....
More information on the website; http://www.turismepriorat.org/en