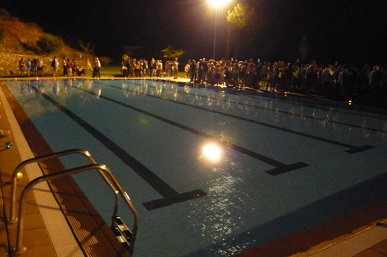 The Torroja del Priorat Wine Night arrives on the 19th of August at the 10th edition. The event maintains a wide program of activities to raise awareness of the wines and the town of Torroja del Priorat during the whole day, which culminate with the evening tasting in the municipal swimming pool.
The organization, carried out by the local wineries in collaboration with the Torroja Town Council and the Regulatory Council of the DOQ Priorat, has planned the following acts:-
-11:00 p.m. Open doors to local wineries.
-12:00 p.m. Guided walk through the town of Torroja del Priorat.
-1:00 p.m. Vermut a la Bassa (with Joan Tàpias, from the Vermouth Museum of Reus).
    -6:30 p.m. Blindness at "Cal Cuenta" for professionals in the wine sector (limited places: an essential pre-booking).
    -10:00 p.m. Show and tasting nocturnal wines from the wineries of Torroja del Priorat. Place: municipal swimming pool in Torroja del Priorat.

he section restricted to professionals of the wine world (pre-registration is essential at nitdevinstorrojadelpriorat@gmail.com) is maintained with a visit to a farm in this wine-producing area and a blind tasting at 6:30 a.m. rural accommodation It is necessary.

The Regulatory Council of the DOQ Priorat supports the popular tastings and samples that are carried out throughout the year in the villages of this wine region, the only one qualified in Catalonia and one of the only ones with this recognition in The Spanish state.